Sipa Apartments in Overseas Living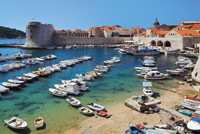 Sipa Apartments offer the perfect vacation space for anything from a couple of nights to a couple of months

Dubrovnik, nicknamed the 'Pearl of the Adriatic' and listed as a UNESCO World Heritage Site, is a perfectly preserved complex of public and private, sacral and secular buildings representing all periods of the City's history, beginning with its founding in the 7th century.

A magnificent view of the medieval Old Town of Dubrovnik, the open sea and the mysterious island of Lokrum make Sipa Apartments' location one of the most exclusive, not only in Dubrovnik, but in the whole country.

Culture vulture
The apartments are located in a peaceful area within ten minutes walking distance of the Old Town of Dubrovnik which is a center of modern cultural and tourist events in a city of summer festivals, an international parade of top musical and theatrical achievements and many museums and galleries.

Sipa Apartments offer five four star apartments in a spacious new building, surrounded by a garden of Mediterranean sub-tropic vegetation and located right above Hotel Argentina and Villa Sheherezade. Each apartment has a large terrace with a priceless view, its own parking space and is seismically protected.

Apartments A (97sq m) and B (102sq m) have two bedrooms with double and twin beds, two bathrooms with a washing machine, modern and fully equipped kitchen, cozy living room, broom cupboard, air-conditioning and satellite TV. The only difference between these apartments is in the fact that the apartment B has two terraces rather than one; from the living room and the bedrooms. These spacious and functional apartments are equipped to accommodate a whole family or a group of friends for a longer period of time than the average holiday.

The apartment C (48sq m) also occupies the whole floor as the two apartments above it, but it is on the garden level. It also has everything listed for apartments A and B but with just the one bedroom and bathroom, making it perfect for a prolonged romantic getaway.

Apartments D (56sq m) and E (50sq m) were renovated completely last summer and are now furnished in the same way as Paris' Westin and Moscow's Petar I. They have one double bedroom each and are separated from the rest of the apartments making them a perfect place for those wanting more privacy, and because of their luxury, have everything to appeal to those who love stunning aesthetics.

For those interested in staying in Dubrovnik, Sipa Apartments offer everything vacationers need for a memorable stay.